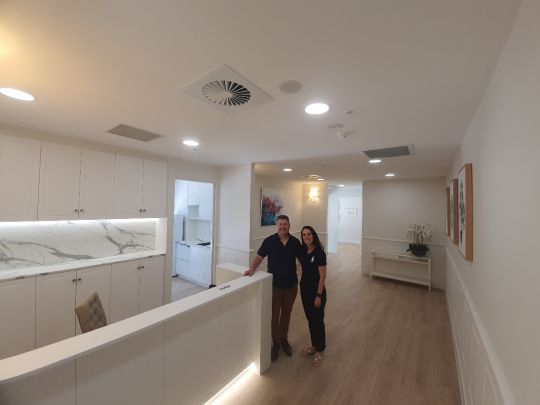 Dr Rachael Hickinbotham reaches practical completion
23 Nov 2021
This month we reached practical completion on several project, including a new practice at Dexus North Shore Health Hub at St Leonards for Dr Racheal Hickinbotham.
Here's a lovely testimonial we received from Dr Hickinbotham. It was a pleasure to help her realise her dream practice and we wish her every success.

Dear Team,
Today I met Steven and Marton to sign off and collect the keys to my new medical consulting rooms! It was an epic day for me both personally and professionally. My whole professional life I have dreamed of this day. To have an office that I have been able to design from scratch (with lots of help of course) has always been an aspiration.
Lia… hats off to you. Your kind and easy manner allowed us to create the most beautiful and serene space for me and for my lovely patients. I can't wait until you see the professional photos. You should be so proud.
Gerry and Mark Thankyou for working tirelessly behind the scenes and helping to manage the unexpected hurdles and the COVID delays and complications.
Marton, thank you for looking after Mike and I and getting the project off the ground.
Sam Thankyou for choosing the best team to look after us and holding my hand when the DEXUS certifier caused us delays.
Steven, what an amazing site manager!!! No question I asked was too silly, no task was too much trouble and all done with a lovely smile! Thank you Steve!
Well done to the whole team. You guys have changed my life. I hope you will look on the photos fondly and be proud of the role that you played.
Best Wishes
Rachael Hickinbotham