True National Capacity
This year, 2020, marks over 18 years in business for Medifit Design & Construct.
Medifit was first to market in March 2002, and has operated exclusively in the healthcare space designing, building and fitting out Australian dental, medical, day surgeries and allied health practices. With more than 600 projects delivered across every state of Australia, it is likely that there is a Medifit practice near you.
Whilst Medifit head office and the design studio are in Perth, it may surprise readers that 80% of Medifit's construction and interior fitout work has been completed in the Eastern States.
From the early days, the company embraced the concept of building local and employed state based Project Managers to manage practice construction and fitout in their respective states, with quality standards and procedures handed down from head office. To further control all projects they have developed a proprietary templating system that acts as a control mechanism on all projects ensuring speed, accuracy and quality are at the forefront. This approach has resulted in an agility that has stood the test of time.
Design and documentation are completed on Perth time and this time difference provides a surprising benefit. Practitioners busy caring for patients in the Eastern States are able to contact the Medifit team in Perth to discuss design options at the end of their working day via phone call or video conferencing.
The recent global pandemic has created significant challenges for many companies and providers but Medifit's robust & proven systems has enabled the company to continue operations (with the required covid safe work measures in place). All Medifit sites nationally have continued operations during this period. The model has been so successful that relationships with the original state project managers endure to this day.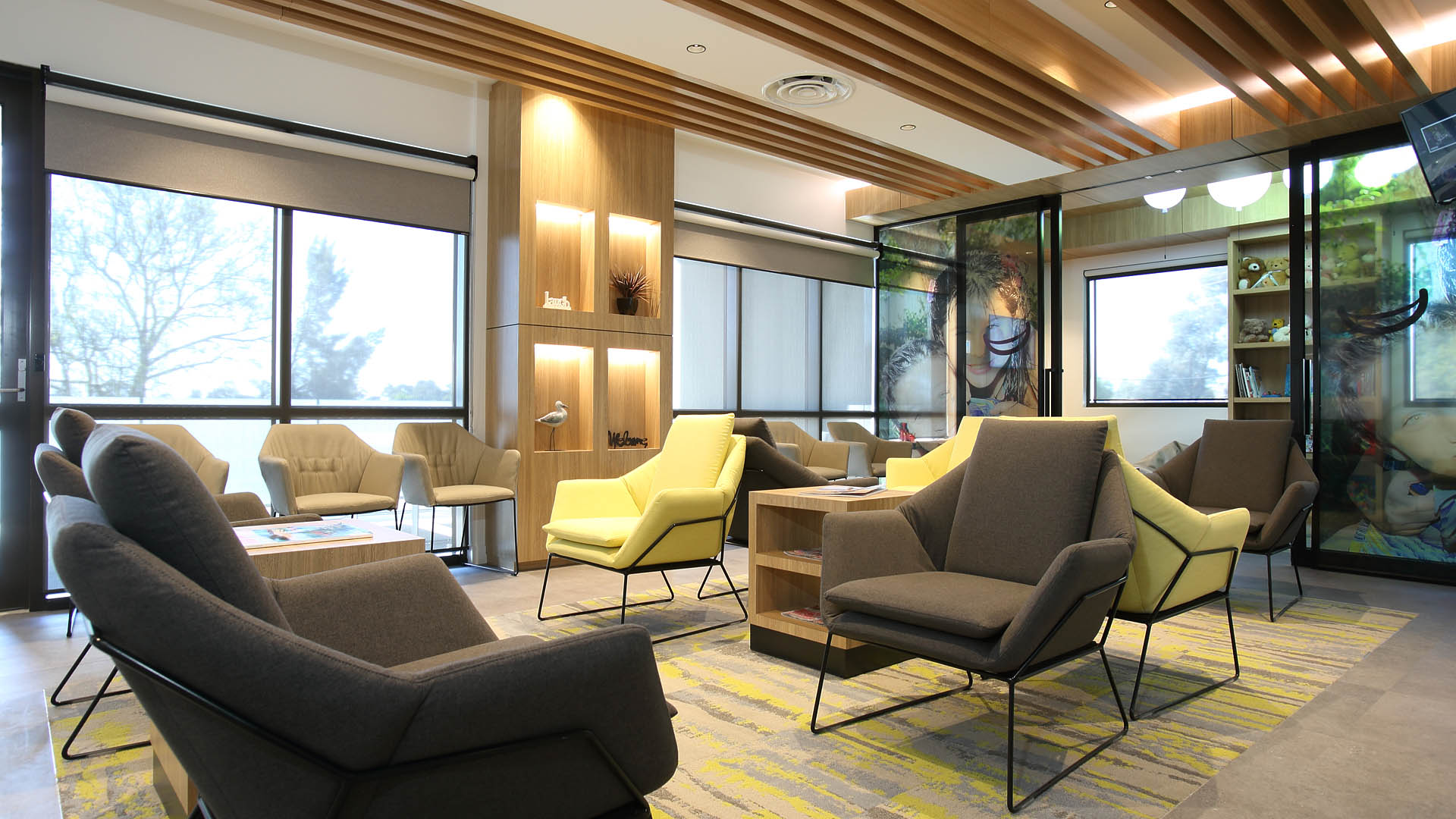 ABOVE: Diverse Dental - Koo Wee Rup, VIC
Over the years, Medifit has built an enviable reputation among suppliers, trades and the dental community as a premier provider of high quality practices. The loyalty we have shown to our staff, trades and customers around the country is reciprocated and has resulted in steady growth since our inception and further ensures high quality outcomes.
Medifit operates a state of the art 8,000m2 joinery manufacturing facility, producing cabinetry and joinery that is built to withstand the rigours of heavy commercial use. With almost 2 decades of experience producing thousands of individual joinery components for a huge range of disciplines Medifit's manufacturing capacity covers the full range of solid surfaces including Corian, Austarion and Hi-Macs. Medifit practices across Australia still have a contemporary feel & the quality has stood the test of time.
Since inception in 2002, Medifit's promise has been to deliver quality practices, perfectly suited to the individual practitioner with a minimum of stress in unison with a high degree of honesty and ethics.
With a growing list of happy customers and repeat business around Australia, this promise has been and will continue to be kept.
This article was published in Australiasian Dentist magazine No. 85 Sept-Oct 2020 issue.